Age 18

Family Action Steps

---
There are many things you can do to support your teen on their journey to becoming an adult.
You don't have to do these in any particular order. Just dive in and get started!
Things to Do

Age 18 is here! Here are things to do to continue planning for adulthood.

---
Contact Social Security.

At age 18 your benefits through Social Security may change. Contact Social Security to determine if you qualify for supplemental Security Income (SSI), Social Security Disability Insurance (SSDI), Medical Assistance (MA) or Ticket to Work.

Does your teen have a plan for what they will be doing after graduation?

In your teen's senior year of high school, the focus is on what your teen will do after graduation. What is their plan? Will they get a job or job training? Or, will they go on to college or a technical school? This is an exciting time that can be a little scary, too. Talk to your teen about how they feel and what their concerns are.

Remind your teen to sign permission forms at school and medical clinics.

When your teen turns 18 years old, they becomes a legal "adult." One major change at this time is that the staff at your teen's school and medical clinics may no longer share information with anybody, including parents/guardians, without signed permission from your teen.

Encourage your teen register to vote.

Help your teen register to vote, become informed about the voting processing and elections, and consider going to vote together.

Remind your son to register for the draft.

Young men are required to Register with Selective Service (the draft) within 30 days of turning age 18. But, this does not mean that they are joining the military.

Work experience

Whether your teen has had a job before or not, it's time to talk about work again. If your teen is out of high school, there is probably more time available to work. It's an opportunity to earn more money, as well as to get experience in a field they are interested in.

Social Security

At age 18 your teen will go through the redetermination process with Social Security. It's time to help your teen recalculate their income and expenses.
---
One, Two, Three

Topics to Explore

---

Needs VS Wants
Helping your teen learn to budget their money for things they need versus the things they want is an important step toward finacial independence.
---
---
---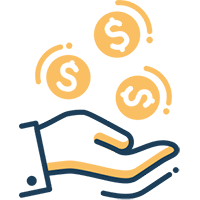 Credit
Learning about using credit and the importance of maintaining a good credit score can help your teen be financially stable as an adult.
---
---
---

Independent living
There are many options for living independently when you have a disability. Help your teen investigate them and figure out the best options.
---
---
---
Whatever Works for You

These are all ways to prepare your teen for Age 18!